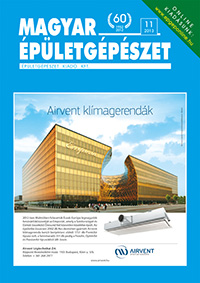 2013 11. szám
Hozzászólások
Practical experience with a fuel cell unit for Combined Heat and Power (CHP) generation on the building level
Még nem érkezett hozzászólás!
Sommer, Klaus - Mesenhöller, Eva
Practical experience with a fuel cell unit for Combined Heat and Power (CHP) generation on the building level
The previous REHVA Journal article "Micro-Combined Heat and Power (Micro-CHP) Appliances for one- or two-family houses for more energy efficiency" [1] described the common technologies "Stirling Engine", "Internal Combustion Engine" and "Fuel Cell" with the help of available CHP-units. With this article the authors would like to discuss their experience with a fuel cell-based micro-CHP Unit that is highly efficient in terms of electrical output. This experience was gained during research work at the laboratory of heating technology at Cologne University of Applied Sciences [2]. Some of the findings were already presented in 2012 ([3] and [4]).
Figure 1 shows the test arrangement of the investigated fuel cell unit. This unit is called BlueGEN and is manufactured by CFC Ltd. an Australian-German company. It simultaneously generates heat and power. On the electrical side it is connected, in parallel, to the public grid in order to export power or obtain power. On the fuel side it is connected to the public natural gas grid. A heating water circuit delivers the generated heat from this fuel cell unit directly to the connected 680 L heating water buffer tank displayed below. The thermal performance of this unit is being tested by buffer tank heat loading via the fuel cell unit and the heatingwater circuit. Figure 2 shows the schematic depiction of how the test arrangement works.
A teljes cikk letöltéséhez jelentkezzen be!